Need a web site? A redesign? WordPress help?
Let's do this thing!
, many thanks for stopping by. I'm Gwyn, and this is where I showcase my web design and translation portfolio. Browse around and get a feel for what I do, then shoot me an email or call me.  I'll happily listen to your needs and get going on a full solution.
I'm based in Salt Lake City, Utah but that won't stop me from working with you wherever you are. I specialize in front-end web design (especially WordPress sites) and Spanish-English translation. If you're looking to take your business to the next level with a first class, professional, easily-updateable web site, then get in touch and we'll get the ball rolling on a site that'll do you proud.
I offer a truly personalized solution to your business needs. From beginning to end, I'll explain the whole process and make sure the finished product is the one that most closely meets, and exceeds, you and your customers' expectations.
Why's your company called AgaveWeb, LLC?

Blue Weber Agave Tequilana
is the spiky plant that covers the mountains and valleys of Tequila, Jalisco, Mexico, a UNESCO world heritage site; What's it got to do with web design? Very little; however, it's a part of the world I love, it's memorable, makes for a striking logo, and works in Spanish and English. Maybe I can interest you in
some of my pictures
?
But… Isn't Gwyn a girl's name?
You're probably thinking of
GWEN: From Welsh, the feminine form of Gwyn meaning "white, fair, blessed"…
 ;) 
Proof here.
(I'm from the UK and my Mum's Welsh)
¿Se habla español?
¡Por supuesto! Soy inglés pero tengo una licenciatura en Literatura Hispana de la Universidad de Gales, Swansea. He vivido un total de cinco años en España y México. Sé que mi nombre, Gwyn, no es muy facil de pronunciar y por eso mucha gente me dice Paco. Si prefieres hablar en español cuando platicamos de tu página web, a mi también me gusta. No dudes en contactarme si tienes cualquier pregunta sobre mis servicios.
Gwyn Fisher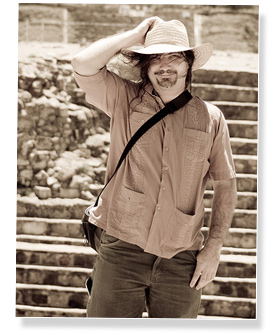 Sugar House, SLC, Utah, USA (Map)
(207) 956-0155